Hi everyone!
みなさん、こんにちは!
If you are living in the countryside of Japan where your favorite shampoo from your country is not easily available, what do you do?
Order from Amazon is one choice. They'll deliver it to you within a couple of days. But buying a Japanese shampoo from your neighboring drugstore is much easier. Why don't you try just once?
You might say there is so much variety on the shelves that you don't know which to choose. I totally agree with you. I change my shampoo pretty often because I myself don't know which one is good.
Several days ago I happened to find a ad-free products review magazine called "LDK." What is wonderful about this magazine is the fact that they have no sponsors, which means they can write anything they want. In the March issue they feature skin and hair care products that can be bought at drugstores. When the shampoo I'm currently using runs out, I'll definitely buy one of the shampoos they recommend.
The shampoos the magazine gave the thumbs-up are mainly silicone-free, but silicone is not that bad after all. It reduces friction, makes combing easier and prevents tangles. Moreover, contrary to popular belief, it does not clog pores and is unlikely to cause skin problems.
Whether it has silicone or not, some products get you down. Shampoos with too much silicone, such as Shiseido's Tsubaki and Lax Bio Fusion, make your hair feel sticky and oily, says LDK.
The following is the shampoo LDK recommends: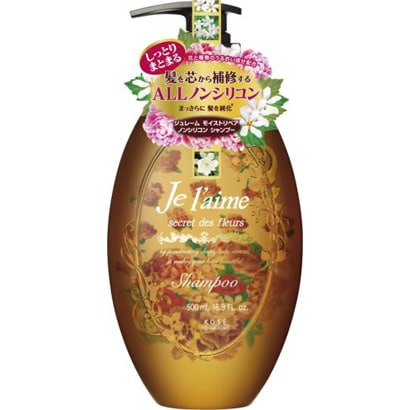 Je l'ame by Kose Cosmeport (945yen, 500 ml)
available at any drugstores.
Premium Bluria by Bené (987yen, 500 ml)
available at any drugstores.
Argelan Scalp Clear shampoo by MKB(1,580 yen, 550 ml)
Silicon-free, paraben-free organic shampoo, available at nation-wide drugstore chain Kiyoshi Matsumoto.
Get "Most Shampoo,"
not
Nudy Aura shampoo (1,943 yen 600 ml), which contains some petroleum-derived materials
Bodyshop's Rainforest Moist shampoo (1,890 yen, 400 ml)
A little expensive, but Bodyshop is always reliable.