みなさん、こんにちは!
Hi everyone!
I just came back from a short trip of Kyushu Island, the southernmost (westernmost?) of the four main islands of Japanese archipelago.
A coupe of days before the trip, I happened to see a breathtakingly beautiful photo in a book of a wisteria tunnel, entitled "One of the superb views you must see in Japan."
I instantly decided to visit there, as I happened to have a plan to stay one night in Fukuoka City, which is not too far from the private wisteria garden, named Kawachi Fuji-en (河内藤園).
Located in the midst of mountains of Kitakyushu City, the wisteria garden is not openly advertized, because the garden's owner is worried that too many visitors may cause the damage of the trees, even if they don't do any harm intentionally.
Even so, this hidden touristic spot is becoming known in recent years by word of mouth, and I heard that it is very busy when the wisterias are at their best.
Well, do you want to know how I liked it?
Unfortunately, the day I visited was a bit too early and only about 30 percent of flowers were in bloom.
The entrance fee differs from 300-1,000 yen depending on flowering situation of wisterias, and they charged us only 600 yen.
But look! Not too bad, is it?
In the 6,100 sq.-meter garden 22 kinds of wisterias have been planted. There are two wisteria tunnels, 80 meters and 220 meters respectively.
This is the inside of the wisteria tunnel. Since wisteria clusters start flowering from the top, two thirds from the bottom were still in bud, but their best time will come very soon -- maybe in a couple of days if the weather is nice.
If you are luckily planning to travel in the north part of Kyushu island in May, you'll see the wisterias in profusion like the photo below.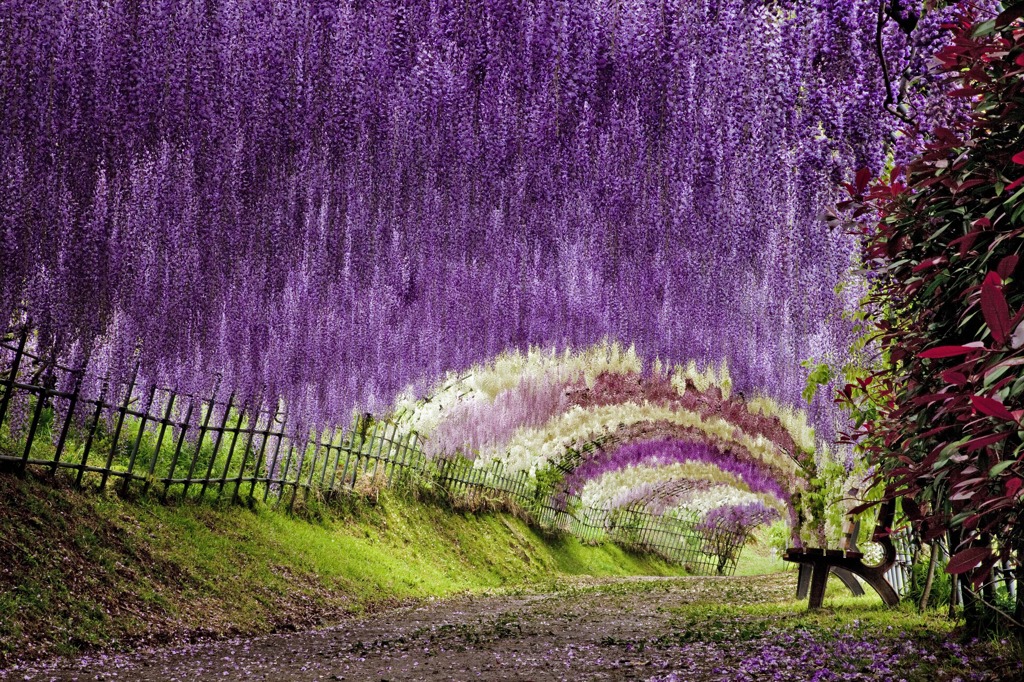 http://photohito.com/photo/578008/
If you want to have a picnic under the flowers, bring your own food into the garden. Don't expect to buy something on the spot. There are no shops, no cafés and no vending machines near the garden.
There are some rules you have to follow
1) Don't touch the trees or stand on the roots.
2) Don't leave your garbage.
3) Don't bring your pets into the garden.
4) Don't take photos using tripods on the paths including tunnels, but you can use them at the grand trellis.
Address: 2-2-48 Kawachi, Yahatahigashi-ku, Kitakyushu-shi, Fukuoka Prefecture
tel: 093-652-0334
Open 9 a.m.-6 p.m.
If you have a car with GPS, you will have no problem, but it is hard to get there by public transport. If you don't want to rent a car, take a taxi from JR Yahata Station, and ask the driver to come back later, since it is almost impossible to hail a taxi near the garden.
Here are useful expressions
1) 河内藤園までお願いします。  Kawachi Fuji-en made onegaishimasu (To Kawachi Fujien please)
2) X時ごろまた来てもらえますか。 ~ji goro mata kite morae masuka? (Would you please come back around X o'clock?)
ここからは日本語で。
From here I'll write in Japanese.
先日九州旅行から帰ってきました。
先日 (senjitsu) the other day
九州 (Kyushu)
旅行 (ryoko) travel
北九州市の河内藤園に行ってきましたよ。
北九州 (Kitakyushu)
市 (shi) City
河内藤園 (Kawachi Fujien) Kawachi Wisteria Garden
旅行の数日前に偶然この藤園のことを知って、行くことを決めましたが、残念なことに、まだ見ごろには少し早かったようです。
偶然 (guzen) happen to (know)
決める (kimeru) to decide
残念(zannen)なことに unfortunately
見ごろ (migoro) best time
数日後には満開になるはずなので、九州旅行を計画している人は、検討してみてください。
数日後 (sujitsu go)  in a few days
満開 (mankai) be in full bloom
計画(keikaku)する  to plan
検討(kento) する to consider
この藤園は宣伝していませんが、今では絶景として有名で、訪れる人が大勢いるそうです。
藤園 (fujien) wisteria garden
宣伝 (senden) する to advertise
絶景 (zekkei) a superb view
訪れる (otozureru) to visit
大勢 (ozei) many
ただ、行くのが難しいので、カーナビ付きの車を借りるか、タクシーに乗ったほうがいいです。
ただ but
難しい (muzukashii) difficult
カーナビ GPS
~付き (tsuki) equipped with
借りる (kariru) to rent
乗る (noru) to take